This year, the Biodiversity Information Standards (TDWG) conference (18-22 October 2021) saw project partners at BiCIKL hold their own symposium under the title: "Where and how to find, store and use links between biodiversity data: the BiCIKL perspective".
There, the subsessions brought up case studies and topics for further discussion concerning different approaches, methods and standards of discovery, preservation, annotation, management and re-use of linked biodiversity data, including warehousing, linking between Fair Digital Objects (FDO) and Linked Open Data (LOD) technologies.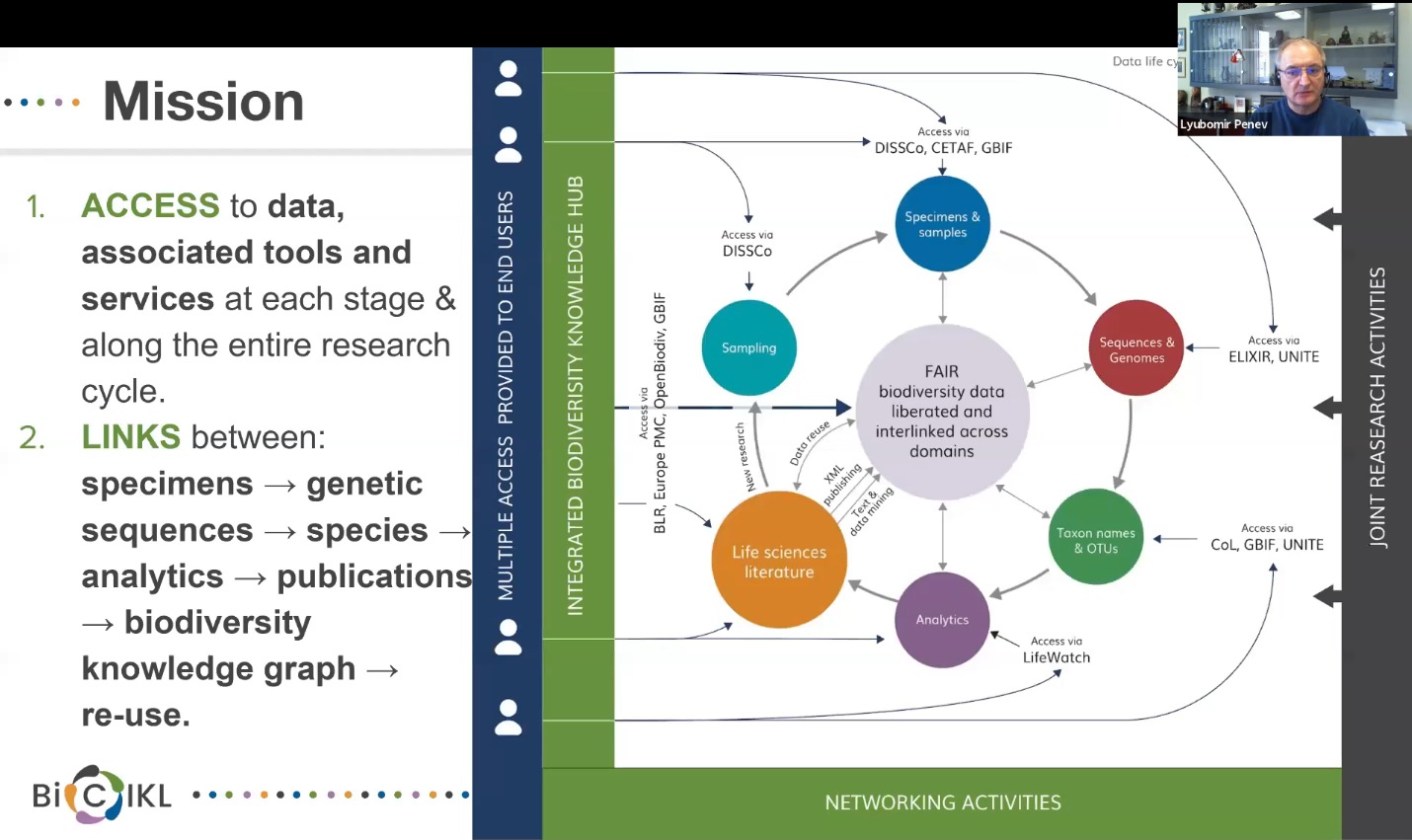 "BiCIKL aims to catalyse the culture change in the way biodiversity data are identified, linked, integrated and reused across the entire search lifecycle. By doing so, BiCIKL helps to increase the transparency, trustworthiness and efficiency of the entire research ecosystem. There are two main key points in BiCIKL: the first one is access, and the second one is links," introduced the session BiCIKL's project coordinator Prof. Lyubomir Penev, CEO and founder of Pensoft.
All presenters have their conference abstracts published in the Biodiversity Information Science and Standards (BISS) journal, specially launched by TDWG in collaboration with Pensoft to make contributions to the annual events permanently and publicly available and discoverable. The abstracts are soon expected to be complemented with multimedia files, including video recordings of the presentations.
Subsession: Semantic Search in Legacy Biodiversity Literature: Integrating data from different data infrastructures
The symposium continued with Dr Adrian Pachzelt (University Library Johann Christian Senckenberg, Goethe University Frankfurt, Germany), who presented the newly developed BIOfid search portal.
With its new tool, the Specialised Information Service Biodiversity Research (BIOfid) opens up legacy biodiversity literature and its underlying data for discovery and extraction.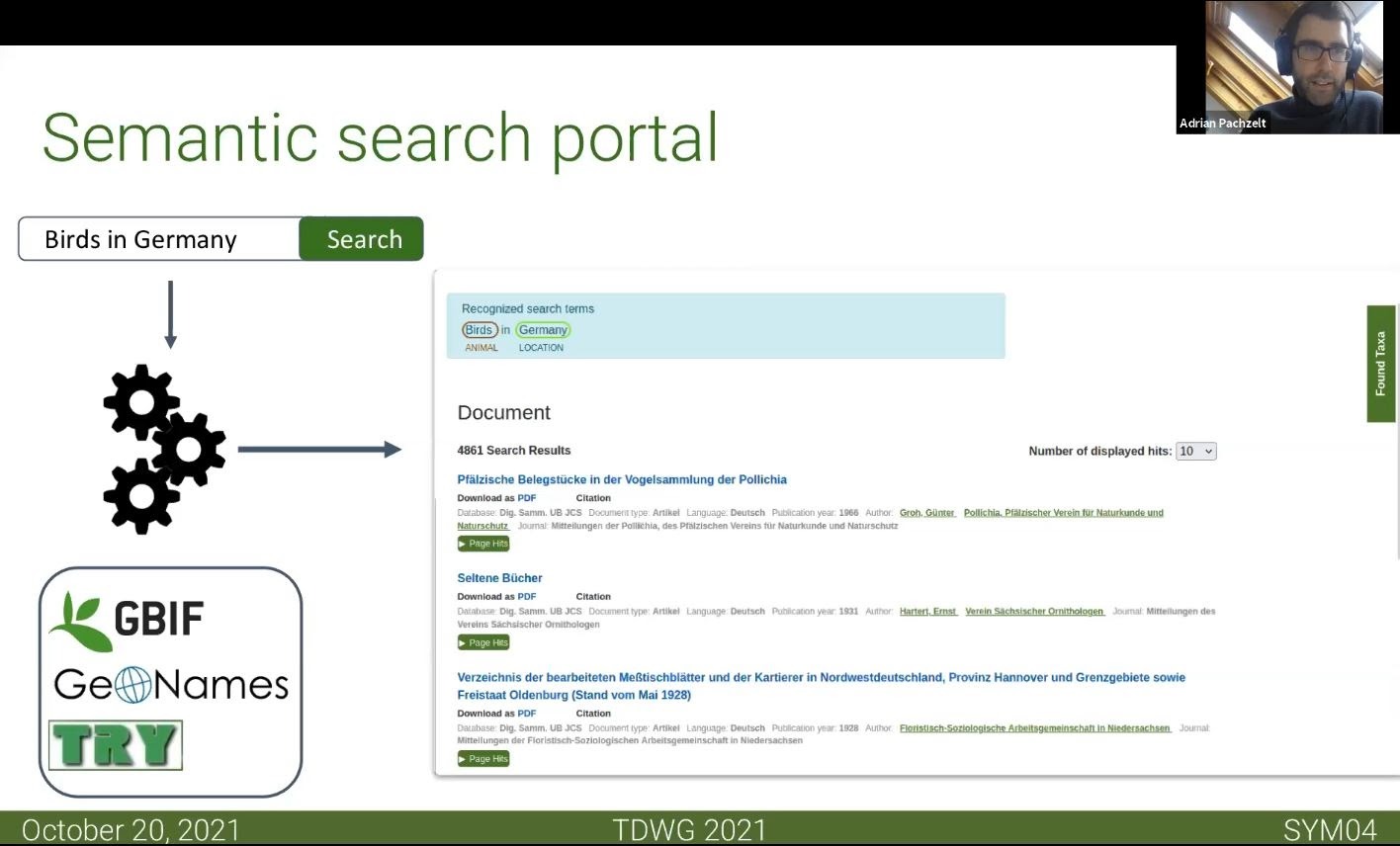 By recognising scientific and vernacular taxon names based on the GBIF Backbone Taxonomy, the search engine retrieves literature that mentions taxa from certain decades or co-occurrences of species. In addition, it allows for trait data to be also included, thanks to its integration with the EoL TraitBank. Having filtered the results, the users are able to download the article metadata - as well as text annotations and database links - in JavaScript Object Notation (JSON) format.
Read more in the conference abstract: https://doi.org/10.3897/biss.5.74251.
Subsession: Third-party Annotations: Linking PlutoF platform and the ELIXIR Contextual Data ClearingHouse for the reporting of source material annotation gaps and inaccuracies
Next on went Dr. Kessy Abarenkov from the University of Tartu Natural History Museum (Estonia), a partnering institution and task leader at BiCIKL.
In her talk, she highlighted the importance of using third-party annotations: "a valuable resource to improve the quality of public DNA sequences", but also the associated challenges, such as mismatches between species names across platforms.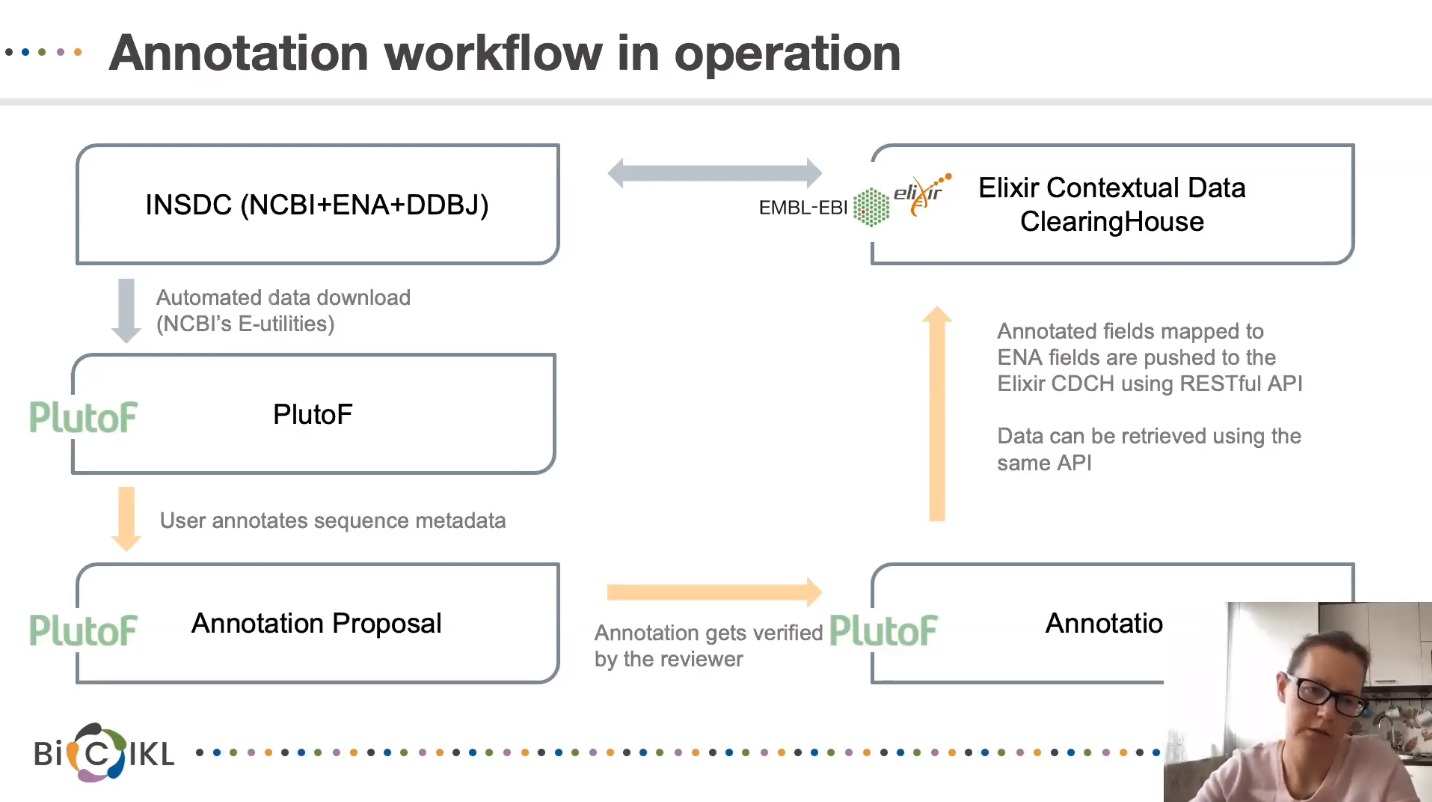 Within BiCIKL, her team is leading the task for development of an automated solution for linking annotations in PlutoF with any sequence and sample record stored in the International Nucleotide Sequence Databases Collaboration (INSDC) databases. By using the ELIXIR Contextual Data ClearingHouse (CDCH) and its light and simple RESTful Application Programming Interface (API), they are to allow user-friendly and effortless reporting of errors and gaps in sequenced material source annotations.
Read more in the conference abstract: https://doi.org/10.3897/biss.5.74249.
Subsession: Robust Integration of Biodiversity Data by Process- and State-based Representation of Object Histories and Modular Application Architecture
Dr Christian Bölling (Museum of Natural History, Berlin, Germany) introduced his team's contribution to the symposium as complementary to the aim of BiCIKL, and defined it as "an inquiry into what to link at a foundational level to provide a robust scaffold for biodiversity knowledge representation."
In his talk, he presented the ongoing collaboration named DINA (DIgital information system for NAtural history data), whose main task is to create a collection management software that enables successful and efficient management of collections, collection objects and the associated data, thus tackling the need for more complete accounts of collection object provenance, including detailed information about sampling, survey, collection and preservation procedures.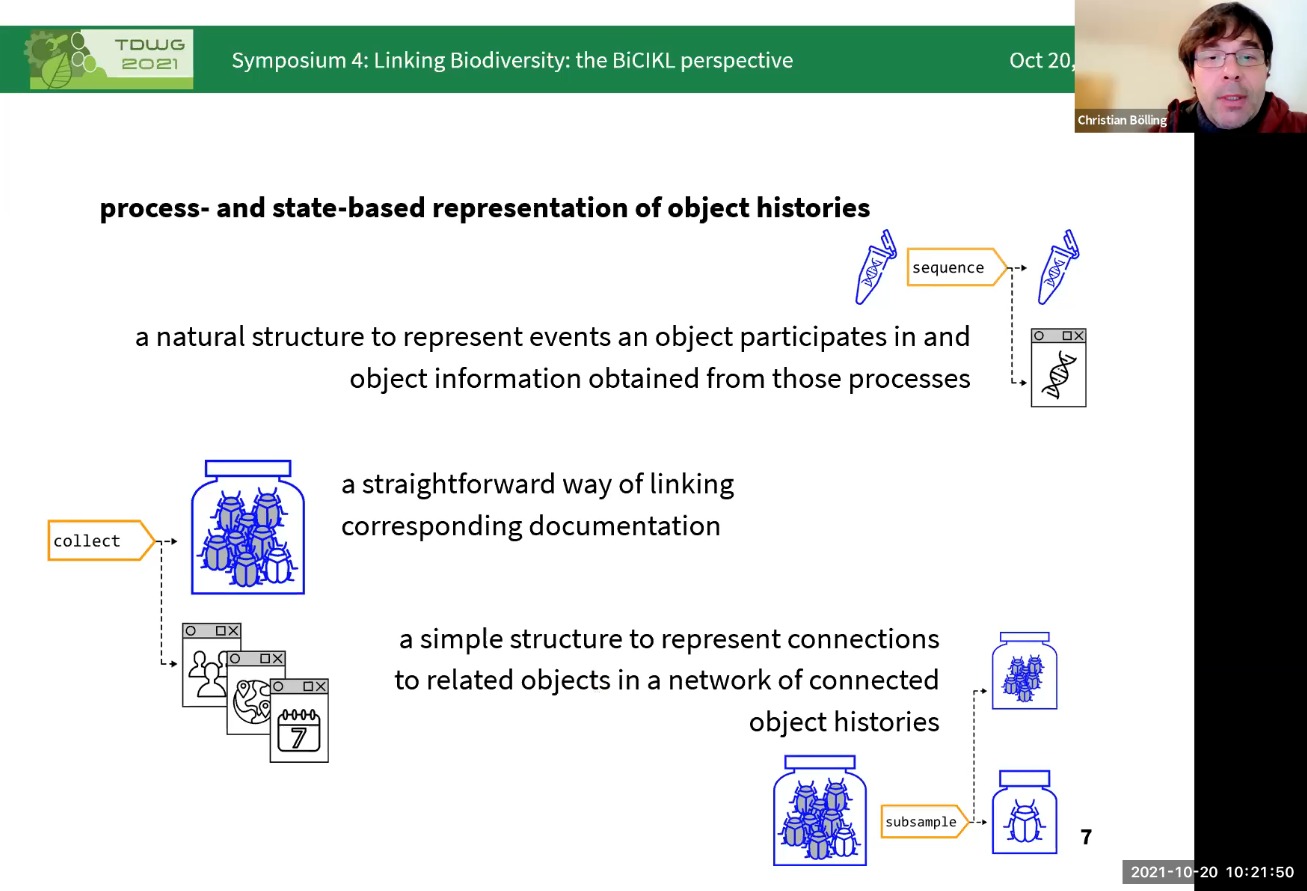 The use of DINA's object histories as a main organising principle for collection object data is envisioned in the context of modular application architecture, data federation, and data integration in projects like BiCIKL.
Read more in the conference abstract: https://doi.org/10.3897/biss.5.75178.
***
The symposium continued with Dr Quentin Groom (Meise Botanic Garden, Belgium) and his report on the BiCIKL hackathon held at Meise Botanic Garden in late September.
By focusing on a few of the ten collaborative projects comprising the week-long event, he provided examples for what the project partners learned in terms of the interoperability of their infrastructures and how they should further improve them.
On top of recommendations addressing individual partnering infrastructures, the hackathon generated more general advice concerning, for example, the use of plant hybrid names in compliance with the International Code of Nomenclature, API setup and harmonisation, and shared cloud environments.
"So, in conclusion, the hackathon was definitely worthwhile. I definitely wish we had more in the biodiversity community. We have made progress," he said.
Other symposia by BiCIKL partners
Within TDWG 2021, BiCIKL's project partners made appearances at several other symposia, where DiSSCo and Plazi organised their own sessions, titled "Specimen data provision and mobilisation: DiSSCo community e-services and standards" (SYM03) and "Discovering known biodiversity: Digital accessible knowledge" (SYM18), respectively. Meanwhile, Pensoft's Mariya Dimitrova talked about nanopublications as an approach towards big data in biodiversity within the symposium dedicated to knowledge graphs (SYM12).
Find all conference abstracts submitted to TDWG 2021 organised by symposium in BISS Journal.
BiCIKL Project at TDWG 2022
Before the attendees said their goodbyes at this year's event, in her closing speech, TDWG Chair Deborah Paul made the announcement that next year the conference is to be held in Bulgaria in October 2022, where it will be hosted by BiCIKL's coordinators at Pensoft. There, the event will be immediately followed up by the General Assembly of BiCIKL.